2016 Camp Cards 
Central North Carolina Council,
Boy Scouts of America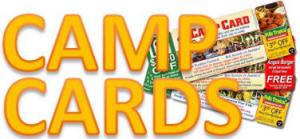 HOW THE CAMP CARD SALE WORKS:

The 2016 Camp Card is designed to help youth fund their way to 2016 Camp programs

This is a Risk Free Unit Sales project where all Scouts can earn their way to Camp, Philmont, other activities or simply support unit program or supplies needs

Each Camp Card will sell for only $5.00 to the general public and will have multiple food, service and entertainment discounts for the customer to use throughout the year

The participating unit will keep 50% commission of the sales for each Camp Card sold!

With the $5.00 Food Lion, Harris Teeter, Bass Pro discount, the Camp Card more than  PAYS FOR ITSELF!

Commissions from the sales are encouraged to be applied toward directly sending youth to Summer Camp programs, but they may be used as the unit committee sees fit.
The Value of selling Camp Cards:
Participating in the Camp Card allows each Scout to directly fund their way to various Camp programs
Program                                             Cost            Sales per Youth (in cards)
Cub Scout Day/Twilight Camp            $75              = 30 Cards per youth to sell
Sneak in Weekend                                 $30              = 12 Cards per youth to sell
Webelos Camp                                      $145            = 58 Cards per youth to sell
Boy Scout Summer Camp                    $220            = 88 Cards per youth to sell
National High Adventure Bases           $800            = 320 Cards per youth to sell
*Note—Program costs and sales per youth are not necessarily actual numbers; they are close approximations.
Camp Card Timeline:
December 17th                           Camp Card Promotions and Unit Sales Sign-up begin
January 28th                               District camp Card Kick-off
January 28th                               Camp Card Sale Begins
May 13th                                     Camp Card Sales Ends
May 16-20th                                Units to turn in money and unsold Camp Cards 
(*Note—Units keep commissions and only turn in unsold cards & money due council)
May 21st                                    Commission drops to 45% commission
May 28th                                     Commission drops to 40% commission
Unit Leader Guide(pdf): Click Here
Online Unit Commitment Form: Click Here



District Camp Cards will be available for pickup on Jan 28. I will be at the District Office (St John's) on Jan 28 from 4pm -7pm. Unit Leaders will also be able to pick up Scouting for Food bags at the same time. Crystal and myself decided to have the distributions at the same time. We hope it will help everyone to get their bags and cards without inconveniencing personal schedules. I will also be at St. John's Office on Feb 2 from 6pm -8pm and at District Roundtable if you are unable to meet on
Jan 28. 
Each unit will need to complete a commitment form for the Camp Cards.  Please use the link to complete your unit's commitment.  Please review info above for more information on Due dates of Cards. Each unit will be able to keep 50% of profit if the unit turns in unsold cards and money between May 16-20.  Profit reduces to 45% if cards are turned in on May 21 and 40% if turned in on May 28. Please let me know if you any have questions.  
Rowan (soon to be Sapona) District Camp Card Chair.